---
Tips for Feeding a Dog with Stomach Issues
A sensitive stomach in dogs refers to a condition in which a dog has difficulty digesting and tolerating certain types of food. Dogs with sensitive stomachs may experience a variety of gastrointestinal symptoms such as vomiting, diarrhea, flatulence, bloating and abdominal discomfort. If your dog has a stomach issues, here are a few tips to consider when selecting the right food for them.
1. Look for a limited ingredient diet: Some dogs with sensitive stomachs may benefit from a limited ingredient diet, which contains fewer ingredients and is less likely to trigger digestive issues. These diets typically feature a single protein source.
2. Consider a novel protein: If your dog has had digestive issues with common protein sources like chicken or beef, you may want to consider a novel protein such as venison, duck, or kangaroo, which are less likely to trigger allergies or sensitivities.
3. Choose a high-quality food: Look for dog food that is made with high-quality ingredients and does not contain fillers or artificial preservatives. Avoid foods with excessive amounts of grains, as these can be difficult for dogs to digest.
4. Try a prescription diet: If your dog has severe digestive issues, your veterinarian may recommend a prescription diet. These diets are formulated to meet specific nutritional needs and may be easier for your dog to digest.
5. Feed smaller, more frequent meals: Feeding your dog smaller, more frequent meals throughout the day can help reduce the likelihood of digestive upset. This is especially important for dogs with sensitive stomachs.
For those looking to find the perfect food for their pup's sensitive stomach, Evanger's has a plethora of options available. For those looking for Canned Complete Dinners, our Classic Chicken & Rice, Lamb & Rice and Vegetarian Complements are completely balanced meals with limited ingredient recipes that are easy on the stomach.
Our Nothing But Natural Gently Dried Beef Tripe are 100% grain and gluten-free treats with only one ingredient for even the fussiest of eaters.
If you're looking for kibble, our high-quality Chicken & Rice, Gamebird & Coconut Oil, Grain Free Chicken w/Pumpkin & Sweet Potato flavors are perfect for dogs of every age, being formulated to meet the nutritional levels of each life stages established by the AAFCO Nutrient Profiles.
Recommended Posts
August 18, 2023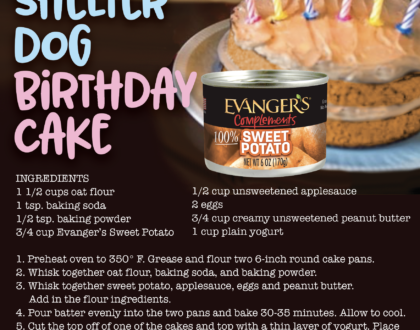 August 10, 2023
June 28, 2023