---
How to Meet your Greyhound's Nutritional Needs
Tips for Feeding your Greyhound
An athletic breed renowned for their sprinting abilities, greyhounds are surprisingly calm dogs that make for great pets, especially for those with little ones. With an average life expectancy of around 10 – 13 years, it's important to understand what your furry friend needs in their diet to ensure they stay happy and healthy.
With lean, muscular bodies that require daily exercise, it's important to provide your greyhound with high quality food that's rich in protein to match their active lifestyle. It's important to note that greyhounds have a sensitive digestive system that can be easily upset by certain ingredients. For example, many greyhounds are prone to allergies, so it's important to avoid common allergens such as corn, wheat and soy. That's where Evanger's dog food comes in – our high-quality, nutritious dog food is perfect for meeting the needs of your greyhound.
Made with high quality, all-natural ingredients, our protein sources include real meat like beef, chicken and lamb, so you can be sure your greyhound is getting the high-quality protein they need to thrive. And because our dog food is free from common allergens, you can be confident that your dog is getting a meal that won't upset their sensitive stomach.
But it's not just about what we leave out of our dog food – it's also about what we put in. Our dog food is packed with wholesome ingredients such as sweet potatoes, carrots, and spinach, providing your greyhound with essential vitamins and minerals. Plus, our dog food is free from artificial preservatives, colors, and flavors, so you can feel good about what you're feeding your pup.
Despite being a very healthy breed, greyhounds aren't immune to common diseases and conditions that are prominent in other dog breeds. For example, when a greyhound's nutritional needs aren't met, it can lead to problems such as DCM (Dilated cardiomyopathy) and IBD (Inflammatory Bowel Disease). With plenty of vitamins and single-sourced proteins, Evanger's dog food is a great choice for greyhounds already struggling with IBD.
At Evanger's, we understand that every greyhound is unique, which is why we offer a variety of different dog food options to suit their specific needs. Our canned dog food options are perfect for picky eaters or greyhounds with dental issues, while our dry dog food options provide a convenient, shelf-stable option for pet parents on the go.
In conclusion, greyhounds are great dogs that need a high-quality diet to live long, healthy lives. By choosing Evanger's dog food, you can be confident that you're providing your greyhound with a nutritious, high-quality meal that will keep them healthy and happy for years to come. So why not try Evanger's dog food today and see the difference it can make in your greyhound's life?
Recommended Posts
August 18, 2023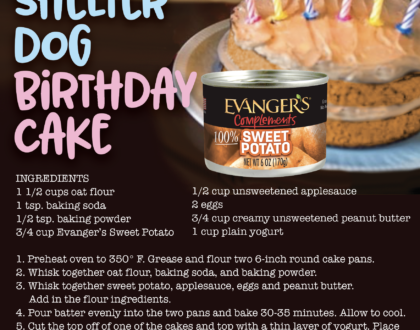 August 10, 2023
June 28, 2023